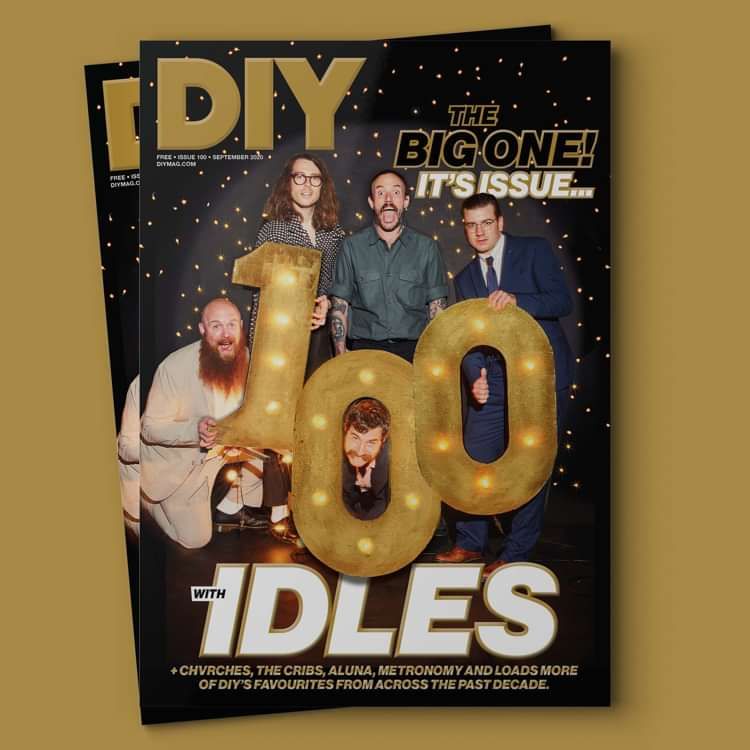 September 2020
Super massive bumper 100th issue!
This month, we're celebrating all things DIY by looking back on our last 100 issues as a print magazine and, of course, we felt it only right to invite along a load of our favourite artists to help! That's why we're utterly chuffed to welcome the incredible IDLES back to the cover for a second time, this time ahead of their thunderous new record 'Ultra Mono'.
Elsewhere in our new issue, we discover the almost unbelievable story behind The Cribs' new record 'Night Network', and catch up with Chvrches' Lauren Mayberry, who gives us a glimpse into the making of 'CHV4'. We also speak to Manchester's finest Everything Everything, who talk us through their new record 'Re-Animator', and catch up with Disclosure, as they gear up to release their first record in five years.
That's not all: throughout our new issue, we get a bit nostalgic, and have asked an array of brilliant acts to look back through the years with us too; while Mystery Jets guide us through indie's last ten years, Aluna talks the biggest events of dance and Arcade Fire's Will Butler runs through live music's stand-out moments. Creeper remind us of some of rock's big ones, while Nadia Rose looks back on hip hop's decade and Rina Sawayama dive's into pop's decade.
Plus, we look back on some of our favourite magazine features from over the years (Indie Dreamboat! Service Station of the Month! Class of…!), speak to Metronomy about their appearance all the way back in Issue 1, and we even roped in Sporty Spice to review the big tracks of DIY's lifetime in a special round of Celebrity Singles.
And, to top it all off - because it is a special occasion - we're super-sizing this month: for one month only, we'll be publishing our mag in A4! Now, if that's not something to get excited about, we don't know what is…
Free P&P is offered on orders within the UK.