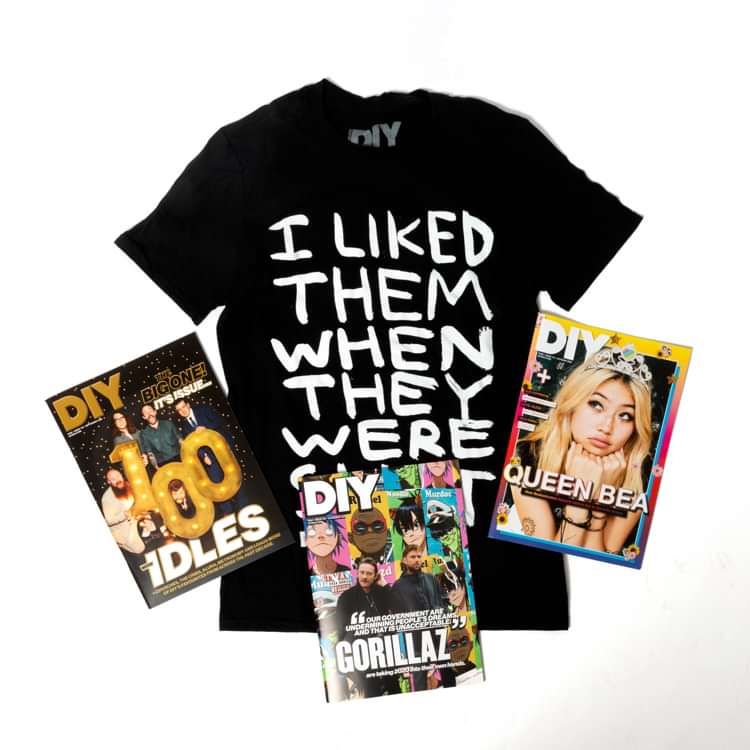 Mag + T
One magazine, plus t-shirt.
August 2020

With Angel Olsen, Declan McKenna, Tkay Maidza

More info

This month, we travelled across the Atlantic to meet Angel in her adopted home on Asheville, North Carolina, where she delved into the process of creating 'Whole New Mess', and the lessons she's learned over the last few, more quiet months of her life.

Elsewhere this month, we catch up with Ronnie Vannucci Jr of The Killers, to talk their huge sixth album 'Imploding The Mirage', we dig into Aussie rapper Tkay Maidza's new EP 'Last Year Was Weird Pt. II' and get all Starman with Declan McKenna.

We also speak to Conor Oberst of Bright Eyes about their first new record together in over nine(!) years, reconvene with Aluna to talk about her forthcoming new solo album, and catch up with The Magic Gang, as they gear up to share their second album.

There's also interviews with Willie J Healey, Bully, Haiku Hands and Connie Constance, as well as Neu chats with A Swayze & The Ghosts, Balming Tiger, Remi Wolf and Eades. Plus! It's our 99th issue! And (spoiler alert) we're planning a big 'un for next month...

December 2020 / January 2021

More info

It's once again time to celebrate some of the greatest new artists set to soundtrack your next twelve months (and beyond): presenting the Class of 2021. Fronted by blue-haired pop phenomenon Ashnikko, plus featuring acts including Master Peace, Benee, Bree Runway, PVA, and Pa Salieu.

Free P&P is offered on orders within the UK.

July 2020

With Glass Animals, Fontaines DC, Celeste, Creeper

More info

It's a double header, with two of the summer's most anticipated new albums - Oxford pop kings Glass Animals, and noisy Dublin boys Fontaines DC. We also talk to Denai Moore about her new record, Creeper about the curse of theirs, Dream Wife on Album 2, catch up with Celeste and much more.

November 2020

With Gorillaz, The Kills, Sundara Karma and more.

More info

Gorillaz front the November 2020 issue, talking us through the road to - and impressive list of guests on - their Song Machine series. We talk to The Kills about their upcoming B-sides and rarities collection 'Little Bastards', Sundara Karma about fully embracing the pop world for their new EP, introduce wordsmiths John Cooper Clarke and Grian from Fontaines DC, catch up with Big Joanie following their recent signing to Kill Rock Stars and much more.

October 2020

With Beabadoobee, Royal Blood, Arlo Parks and more

More info

Beabadoobee fronts the October 2020 issue, releasing debut album 'Fake It Flowers' this month.

We also head into the studio with Arlo Parks and Goat Girl (not together, obvs), find out what's going on with Royal Blood, meet pop's newest hype Baby Queen, plus there are interviews with Matt Berninger, Will Butler, Working Men's Club and more.

Free P&P is offered on orders within the UK.

September 2020

Super massive bumper 100th issue!

More info

This month, we're celebrating all things DIY by looking back on our last 100 issues as a print magazine and, of course, we felt it only right to invite along a load of our favourite artists to help! That's why we're utterly chuffed to welcome the incredible IDLES back to the cover for a second time, this time ahead of their thunderous new record 'Ultra Mono'.

Elsewhere in our new issue, we discover the almost unbelievable story behind The Cribs' new record 'Night Network', and catch up with Chvrches' Lauren Mayberry, who gives us a glimpse into the making of 'CHV4'. We also speak to Manchester's finest Everything Everything, who talk us through their new record 'Re-Animator', and catch up with Disclosure, as they gear up to release their first record in five years.

That's not all: throughout our new issue, we get a bit nostalgic, and have asked an array of brilliant acts to look back through the years with us too; while Mystery Jets guide us through indie's last ten years, Aluna talks the biggest events of dance and Arcade Fire's Will Butler runs through live music's stand-out moments. Creeper remind us of some of rock's big ones, while Nadia Rose looks back on hip hop's decade and Rina Sawayama dive's into pop's decade.

Plus, we look back on some of our favourite magazine features from over the years (Indie Dreamboat! Service Station of the Month! Class of…!), speak to Metronomy about their appearance all the way back in Issue 1, and we even roped in Sporty Spice to review the big tracks of DIY's lifetime in a special round of Celebrity Singles.

And, to top it all off - because it is a special occasion - we're super-sizing this month: for one month only, we'll be publishing our mag in A4! Now, if that's not something to get excited about, we don't know what is…

Free P&P is offered on orders within the UK.

This bundle also includes:

'I Liked Them When They Were Shit' T-shirt

A collaboration with artist Babak Ganjei.

More info

We've collaborated with ace artist Babak Ganjei to create a series of t-shirts - and this is the first one, dedicated to all those fans, who were on their favourite band's side right from their decidedly inauspicious start.